Granada
Nicaragua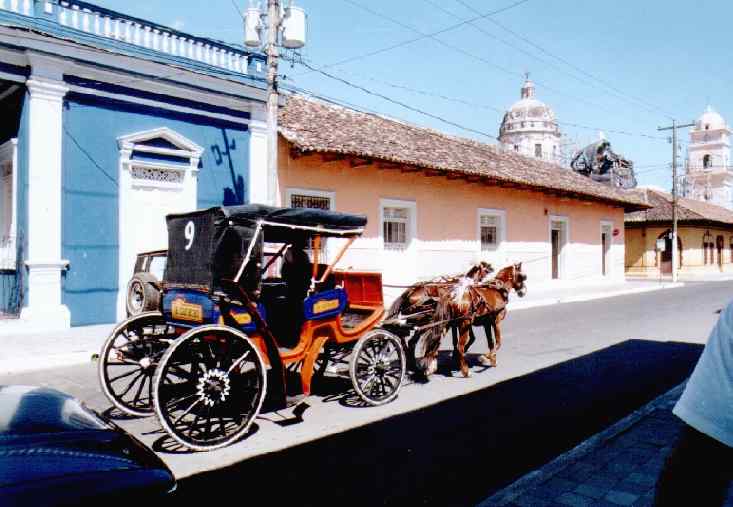 Fondata nel 1524 dal conquistatore Hernàndez de Cordoba, Granada è la città più vecchia dell'emisfero occidentale dell'America.
Ai piedi del vulcano Mombacho, nel XVII secolo fu saccheggiata diverse volte dai bucanieri che arrivavano qui dopo aver risalito il rio San Juan e il lago di Nicaragua.
Nel 1857 il filibustiere William Walker la incendiò prima di scappare; gli edifici più importanti di Granada furono bruciati. Nella sua fuga egli scrisse sulle rovine il leggendario motto : "Qui c'era Granada"
"La Gran Sultana"
Granada è forse la città più turistica del Nicaragua, un'atmosfera tranquilla con le case coloniali, i parchi, il lago, il panorama con il vulcano Mombacho...

Mapa
Hospedaje Cocibolca; Catedral 3 c. al Lago, calle La Calzada. tel. 552 7223. carlosgomez00@hotmail.com
www.domitila.org The Howler Monkey Sanctuary
Oro Travel www.orotravel.com
>>> Leggi il diario di viaggio 2003 <<<

email

scrivimi - write to me - escríbeme

[ UP ] [ Corn Islands ] [ Granada-Nicaragua ] [ León, Nicaragua ] [ Ometepe ] [ San Juan del Sur ] [ canzoni nicas ] [ Lettere sul Nicaragua ]

You can get complete access flak jacket, at our online shopping superstore. Our navy pea coat along with black leather jacket, give you gentle and fabulous look at100% guarantee get vast selection in it. And you can also get score highest marks in 640-461 & 642-874 certifications using our paper course which is prepared by top certified professionals.