THAILANDIA
aprile 2000



BANGKOK e PHUKET

BANGKOK. Impressioni istantanee: CAOTICA, RUMOROSA, CALDISSIMA, METROPOLITANA.
In alcuni angoli è deliziosamente lontana dal caos che la soccombe. Per i neofiti, i templi ( wat ) in centro e lungo le due sponde del fiume sono fantastici, ma dopo un po' stancano (come tutte le cose). La cucina è intrigante e suscita molta curiosità; i piatti locali sono spesso piccanti e caldi. Ovunque si sente l'odore forte della soia. In qualche occasione non sono riuscito a distinguere ciò che mangiavo, ma tutto era sempre commestibile e discretamente saporito.
Ciò che ricordo meglio di Bangkok è il percorso a piedi che ho fatto in un pomeriggio per i quartieri indiano e cinese, dopo che avevo ciondolato fra i viali vicino al Palazzo Reale. Anche i pontili o imbarcaderi sul fiume mi sono molto piaciuti per la loro vivacità e per il passaggio continuo di passeggeri sia indigeni che turisti.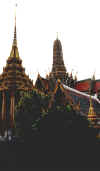 jaofao o "Signori del cielo" protettori del tempio
PHUKET. E' l'isola per eccellenza della Thailandia. Quasi tutti i turisti vengono qui dopo aver visto Bangkok. E' conosciuta come "La perla delle Andamane" e questo suscita meraviglia anche se inizialmente nessuno sappia cosa sia "Andamane" ! L'isola è bagnata dal Mar delle Andamane che bagna anche le isole Andamane e l'India Orientale.
Lungo le sponde di quest'isola si susseguono molte spiagge, alcune conosciute e frequentate, altre meno accessibili o più distanti dalla "massa". Io ho potuto vedere Patong beach, Karon beach, Kata, Kata Noi, Laem Sing beach, e Surin beach.
La Thailandia è molto bella, almeno credo, e merita di essere conosciuta bene.
Io non l'ho visitata bene, purtroppo, nonostante l'impegno, nel mio viaggio non ho potuto approfondire i miei interessi che erano e sono tanti. Certamente riparerò e mi tufferò tra i templi, le spiagge e la magnifica natura che questa terra dispone.


PHI PHI--Laem Tong Cape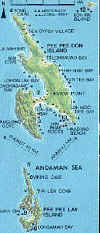 map
Frittomisto - Emerald Garden Resort - La quieta atmosfera dell'esotico Siam .
Emerald Garden Resort
Hotel in Krabi Ao Nang offering Family Vacations Packages .
Krabi and Ao Nang, Land of ancient Ethnics and exotic landscapes, are currently the most required, appreciated and equipped tourist destination of Far East, able to offer all kinds of Hotels, Resorts and vacations.
Our Hotel Resort offer you holiday packages able to let you live magic emotions, they will vitiate you with the ancestral culture and with the kind smile of the Thai people.
Enjoy cheap vacations in Ao Nang and Krabi, fragrant tourist centres leaned out on the Andaman Sea just 25 Km. far from the Krabi International Airport, definitely affirmed as the new tourist destination of Southern Thailand, where you can get cheap holidays by our Vacation Packages .
The strategic position of our Resort in Ao Nang allows to reach very easily sites of strong tourist interest by our Family Vacations Packages as :
* the fabulous 150 islands raised on the sea, hemmed by caves and candid beaches, coral reefs and a luxuriant sea fauna. The most famous are Railey Beach (heaven of the Free Climbers), Hong Island ("the island of the rooms" for the surreal bays) and the cinematographic James Bond Island ("007-The man of the golden gun"), the sand strip connecting Chicken Island and Tab Island ("Pirates! ") and the Phi Phi Islands ("The Beach" with Leonardo Di Caprio). In our garden there are three of the famous and controversial palm trees, used on the film set in Ko Phi Phi island .

* the ancient temples and stately Buddha, between fizzy falls and sources, hidden in an uncontaminated tropical jungle where is still possible to see the tiger, free and protected in the National Parks.

* the Royal Palace, sea residence of the Queen of Thailand, at 3 Km from Ao Nang, leaned out above the sea.

* the shopping in the picturesque markets that offer the most various local handicraft products, and in the many restaurants and cafe on the beach, first at all our Frittomisto Restaurant, to taste fabulous cocktails and typical exotic dishes, admiring unforgettable and purple sunsets
Emerald Garden Resort is a new hotel located in a hilly, panoramic and quite area, just 600 m. far from the sultry waterfront with noisy Long Tail Boats and motorbikes, ideal for people looking for a vacation in a green relaxing oasis without giving up the best comforts, the right place where enjoy an holiday with a quality/price relation at the top of the market of Krabi Ao Nang area.
Emerald Garden Resort is composed of twenty Cottages built in an enchanting tropical garden far just 600 m. from the sea and from Ao Nang centre, attainable during the day by our free shuttle service. This is Krabi National park area, so there is no kind of sun umbrella or deck chairs either on the beach.
Structure:
Masonry cottages Hotel inserted in a 14000 sqm palm forest; a total of 66 housing with portico or balcony, all equipped with the best comforts for Family Vacations: Air conditioned, satellite TV, telephone, safety box, fridge – minibar and hot water.
Family Vacations Packages:
We offer and organize many kind of Family Vacations Packages, for all the wonderful islands and the tropical rain forest. Our two swimming pools Jacuzzi, our Gym corner, our Massage hut, our two bar and our Frittomisto Restaurant will let you enjoy in fully your holiday in Krabi, Ao Nang. Emerald Garden Resort is WWF Member, Unicef Supporter and Unesco Friend; booking holidays or vacations in our Resort you support directly the activity of these very important Organizations. For the lovers of diving, our diving center, organize courses and immersions for every level, day and night, during your vacations in our Resort directly.
Emerald Garden Resort. 3 star holidays Hotel 20 km from Krabi airport; Vacations Resort in Ao Nang Beach offering Family Vacations Packages.
Villaggio a Krabi: http://www.frittomistovilla.com/
superficie 517000 kmq

www.gpntraveltour.com Tour per viaggi a Phuket - Thailandia.
Chiedi le informazioni di viaggio ai miei amici viaggiatori !

email
[ Home ] [ Phuket ] [ Lettere sulla Thailandia ]
[ ARGENTINA ] [ BOLIVIA ] [ BRASILE ] [ CAMBOGIA ] [ CentroAmerica ] [ CIPRO ] [ COLOMBIA ] [ COSTARICA ] [ CUBA ] [ EGITTO ] [ ETIOPIA ] [ FILIPPINE ] [ GRECIA ] [ GUATEMALA ] [ HONDURAS ] [ INDIA ] [ INDONESIA ] [ IRAN ] [ IRLANDA ] [ ITALIA ] [ KENYA ] [ LAOS ] [ MALAYSIA ] [ MAROCCO ] [ MEXICO ] [ MOZAMBICO ] [ MYANMAR ] [ NEW YORK ] [ NICARAGUA ] [ OMAN ] [ PANAMA ] [ PERÚ ] [ PETRA e JERUSALEM 2017, preparativi di viaggio ] [ PORTOGALLO ] [ PRAHA ] [ SARDEGNA ] [ SENEGAL e GAMBIA ] [ SPAGNA ] [ SRI LANKA ] [ SYRIA ] [ THAILANDIA ] [ TURCHIA ] [ UNGHERIA ] [ UZBEKISTAN ] [ VENEZUELA ] [ VIETNAM ]